All In One Touch PC – With more and more Digital Signage solutions now requiring touch interaction, we are seeing an increase in demand for a suitable PC to drive the solution.
The PC is required to communicate with the touchscreen, and often manage the content and drive the display too.
Installing a complete set up can be tricky, with a separate boxed PC, LCD display and touchscreen overlay, they take up more space, and do not look very attractive with cabling running everywhere.
So with this in mind, we designed our range of All in One Touch PCs.
We have the following standard sizes available; 15.6″, 18.5″, 21.5″.
Other custom sizes available on request.
With the PC, advertising display and touchscreen neatly assembled into one sleek display with edge to edge glass, it allows you to have one device installed, saving space and looking more aesthetically pleasing.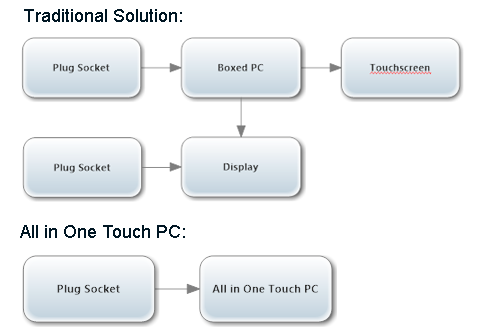 All In One Touch PC – We are also able to customize the solution with different touchscreen technologies, PC specifications and operating systems etc.
The CDS Android All-in-One Network Screens have all the necessary networking hardware built-in; making installation a breeze. Other network solutions require you to buy multiple pieces of hardware – making setup and installation much more difficult, as well as the added challenge of concealing all of the extra wires and power leads. Hardware and software usually come from different sources which can result in confusion and conflict when identifying any potential faults. In contrast to this, any issues with our screens or digital signage software will be dealt with directly by CDS.
Connectivity of displays
These screens have LAN and Wi-Fi connectivity as standard and can even be upgraded to have 3G connectivity. This means that we can provide a fully integrated cloud based solution for any location – even if broadband access is not available.
Cloud Based CMS from CDS
Updating your screens couldn't be simpler. Login to our web-based portal from anywhere in the world to upload media, manage playlists, create your own templates and schedule content for whenever you want; giving you complete control over your network. No special software installation or dedicated PC is required.
For more info on our All in One Touch PCs. Please contact us.